TENTIFY Carpas para eventos, domos y refugios
TENTIFY | SHADES  – CUBRE TU EVENTO O FIESTA CON POP-UP, STARSHADE O CARPAR STRECH
Ya sea que necesites cubrir un pequeño espacio promocional, crear una sombra gigante para cientos de personas o simplemente buscar impacto para su evento, ¡no hay problema con nuestros sombras! ¡Las carpas plegables star y stretch personalizadas realmente se adaptan a todos!
Desde una pequeña carpa plegable blanco hasta carpas gigantes impresas a la medida.
Por supuesto, con la más alta calidad para que pueda usar los productos una y otra vez .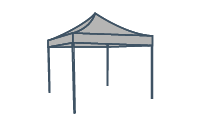 CARPA POP-UP DE RÁPIDO DOBLAJE
START TENT LA CARPA CON LA MEJOR SOMBRA
CARPAS STRETCH MULTIPROPÓSITOS PARA TODO TIPO DE EVENTOS
TENTIFY | DOMES  – CREA ALGO ESPECIAL CON UN DOMO ESFÉRICO O DE FLOR INSPIRADO POR LA NATURALEZA
Si está buscando algo realmente original para tu proyecto, inspírate con nuestros domos.
Con una amplia gama de tamaños y opciones, el domo geodésico IGLOO es perfecto para presentaciones a largo plazo, domos de hielo o glamping (GLAMOUR EN CAMPING) cada vez más popular.
Una carpa hinchable de alta presión FLOR está inspirada en la naturaleza, crea un elemento original que cautiva y no tiene comparación en el mundo .
DOMO ESFÉRICO PARA EVENTOS EL TECHO MÁS FUERTE POR LARGAS TEMPORADAS EN EVENTOS Y GLAMPING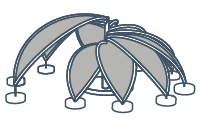 DOMOS HINCHABLES DE ALTA PRESIÓN INSPIRADOS POR LA NATURALEZA
TENTIFY | DISPLAYS – BEACHFLAGS PARA COMPLEMENTAR TU EVENTO
¿Aún te falta un pequeño detalle para completar tu evento? ¿Necesitas impactar a distancia o simplemente renovar tu showroom? Las banderas de playa son ideales para interiores, exteriores y todo tipo de superficies.
¡Elige entre los tamaños y formas más populares y hazte visible!
ALTA CALIDAD DE BANDERAS PLAYERAS CON VARIOS TIPOS Y TAMAÑOS
PERFORATED FENCE BANNERS
BUDGET SPONSOR PROMOTION
Fill short form to DOWNLOAD brochure full of ZEPELIN products.
Do not be afraid to be spammed. We will only send you a newsletter time to time, when announcing new interesting product or article.