Spherical domes, stretch tents and star shades for party and events
TENTIFY | SHADES  – COVER YOUR EVENT OR PARTY WITH POP-UP, STARSHADE OR STRETCH TENTS
Whether you need to cover a small promo stand, create a giant shade for hundreds of people or simply looking for the background for your event, no problem with our shades! Custom scissor, star and stretch tents are truly suitable for everyone!
From a small white folding stand to giant custom-printed tents.
Of course in the highest quality so you can use your products again and again.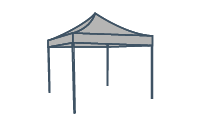 FAST FOLDABLE
POP-UP TENT
STAR TENT THE MOST COMMON EVENT SHADE
MULTIPURPOSE STRETCH TENT FOR ALL KIND OF EVENTS
TENTIFY | DOMES  – MAKE SOMETHING SPECIAL WITH SPHERICAL EVENT DOME OR FLOWER DOME INSPIRED BY NATURE
If you are looking for something truly original for your project, get inspired by our domes.
With a wide range of sizes and options, geodesic dome IGLOO is perfectly suited for long-term presentations, ice domes, or increasingly popular glamping.
A high pressure inflatable flower tent inspired by nature creates an original element that captivates and is unparalleled in the world.
SPHERICAL EVENT DOME THE STRONGEST ROOFING FOR LONG TERM EVENTS OR GLAMPING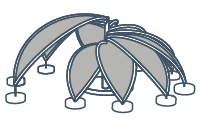 HIGH PRESSURE INFLATABLE EVENT DOME INSPIRED BY NATURE
TENTIFY | DISPLAYS – BEACHFLAGS TO COMPLEMENT YOUR EVENT 
Are you still missing a little detail to complete your event? Do you need to capture from a distance or just refresh your showroom? Beachflags are ideal for interior, exterior and all kinds of surfaces.
Choose from popular sizes and shapes and make yourself visible!
HIGH QUALITY BEACHFLAGS
IN VARIOUS TYPES AND SIZES
PERFORATED FENCE BANNERS
BUDGET SPONSOR PROMOTION
Fill short form to DOWNLOAD brochure full of ZEPELIN products.
Do not be afraid to be spammed. We will only send you a newsletter time to time, when announcing new interesting product or article.